Shopping Cart
Your Cart is Empty
There was an error with PayPal
Click here to try again
Thank you for your business!
You should be receiving an order confirmation from Paypal shortly.
Exit Shopping Cart
Quality Made Wines with fruit exclusively from the Northern Plains!
| | |
| --- | --- |
| Posted on April 15, 2012 at 10:30 AM | |
April 15 (OMG it's Tax Day!)
But vineyard owners in the  midwest haven't been thinking about taxes.  They've been consumed with information about frost.  For many, this has been the worst year on record.  Let me provide a bit of background on how we measure and what we do in the spring.
MEASUREMENT: 
PHENOLOGY:Vineyardists, like many nature watchers, use a concept called "phenology" which is the study, notation and attention paid to when things happen.  Generally, grapes bud out in Miles City around Mid-May.  This year, it appears likely to happen around April 20th, more than three weeks early.  Generally, our flowering crabs blossom about May 15th as well.  This year they are already in blossom.  Everything across the midwest has been about a month or more early.
GROWING DEGREE DAYS (GDD):  This is a measurement tool that sums up the average heat above 50° F. throughout the growing year.  50° F because that's approximately the temperature above which grape tissue actually does something and doesn't just sit there.  In Miles City, we get about 2700 GDD each year.  Generally about this time, we've only had 15-20 GDD.  But this year we're already up to 85.
STAGES OF GROWTH:  Why do GDD matter?  Well, with most hybrid grape varieties, budbreak happens at about 100 GDD, and up until just before budbreak, the vines can take a pretty good freeze.  At budbreak and after, just a couple degrees below freezing can be deadly (literally!)
WHY THIS MATTERS: 
LATE FROSTS:  With spring so early this year, we are all at risk for late frosts that can kill the buds (but not the plant.) It just means that we might have to do all the work of pruning, training, etc. and get nothing in return this year. SO FAR with 85 GDD, we have not reached budbreak, so the frosts haven't harmed us.  But our last hard frost average is close to the middle of May, so we might lose our crop in the next four weeks even though things look good now.
HOW ARE OTHERS DOING?  GDD in Minnesota, Wisconsin, Iowa, Nebraska, Michigan is well up toward or above 200.  That means their buds have burst, and they have little canes between 1-3 inches long.  And they are having hard frosts in some of those locations. 
HOW BAD CAN IT GET?  I just read last night that it appears that up to 90% of the Welch's controlled vineyards in Michigan might be a total loss this year. Iowa reports that they believe they might be somewhere between 10-90% damaged, depending on location and variety.  Damage is being reported everywhere in the frost zone  that has had such a warm spring.
WHAT CAN BE DONE?
HEAT:  A number of vineyards use huge propane jets (like a salamander heater only 10 times as big) and drive up and down the rows trying to heat the air.  Some hire expensive helicopters to hover over their vineyards in a moving pattern, to push warmer air above down to the ground.  Others light smudge fires.
OVERHEAD SPRINKLING:  Some vineyards are set up to spray water on their vines overhead, coating the leaves, buds, twigs, everything.  The science of this is that as water freezes, it gives off heat, and keeps the tissue beneath the ice just above freezing.  But it's tricky to do, and most of us don't have the equipment or enough water to do this job.
SPRAYING WITH CHEMICALS: Some vineyards have tried spraying with certain fertilzers/chemicals that are supposed to be cryo-protectants.  There IS some evidence that this might work, but only for a few degrees.  You might survive at 30° F, but not at 22° F if the buds have opened.
PRAY!
DIVERSIFY.  Here at Tongue River Vineyard & WInery, we had a total crop failure two years ago due to frost at the other end of the year:  Early hard fall frosts can severely weaken the above-ground portion of  vines if they haven't had time to harden off and get ready for winter.  We got caught due to frosts on my wife's birthday (Oct 10th) and a couple more days in 2009, which basically killed everything above ground.  We spent all of the summer of 2010 rebuilding the trunks, cordons and canes for the 2011 harvest and it paid off.
But many vineyard/winery operations have ONLY grapes, and that's where the real hurt comes in our unpredictable climate.  We did pretty well our opening year because of all of our fruit wines, and we continue to increase and expand our offerings there.  We will pick our first haskaps and Canadian cherries this year.  We've significantly increased our holdings in apples, pears, black currants, sand cherries, raspberries, elderberries and rhubarb.  And our two highest selling wines continue to be rhubarb and Foxy Lady (our apple/currant blend.)
Anyone engaged in any farming venture needs to be able to shrug one's shoulders and say, "oh well, next year."  Or as our friends in Broadus, just south of us like to say even more cynically, "This is year after next country!"
Pray for frost free weather for the rest of spring.  Please.  Double, triple infinite please!!
| | |
| --- | --- |
| Posted on October 18, 2011 at 9:35 AM | |
What a great year!  We picked just over 7000 pounds of grapes, bought another 3000, picked lots of other fruit and are set to craft 2 1/2 times as much wine this year as last.
The bird netting is now safely pulled off the vineyard after three days of steady work.  The robins, blackbirds, sparrows and wrens have entirely removed the grapes our pickers missed, and with frost arriving on October 15th the season was over.
Except for our raspberries in the high tunnel, which keep cranking out a half-gallon of berries every day and will probably do so for another month. 
Now the vineyard looks lonely and dead as the leaves increasingly fall off.  Next week we will prune and bury the 700 feet of tender vines and then all is prepared for winter.
Next year?  9000 pounds expected.  We'll know in April when pruning happens what we might expect.  Happy winter, all!
| | |
| --- | --- |
| Posted on August 16, 2011 at 1:15 AM | |
We again have a bird free zone!  Thanks to a dozen scary assistants, who yelled, woo-wooed and waved their arms from one end of the vineyard to the other, the remaining birds last Friday evening fled the vineyard which was netted overhead and on three sides.  Josh and I quickly pulled shut the southern curtain, hung it up on the poles to close the remaining openings, and we had, once again, a 2-acre bird-free zone.
It is such a pleasure to go out and finish picking the sandcherries, to check on the grapes and do some final combing of the canes with no birds within at least 5 feet of any of the vines.  Now if we just keep getting super-hot days for a long season, we'll be in harvest heaven in the early days of October.
I love the robins in April when they return from wherever they go.  A few years ago, a hungry spring robin even took a worm from Marilyn's fingers before flitting away.  But by August, I hate them with a passion.  They are voracious feeders, and anything not netted is fair game for them.  Thankfully our nets provide us total protection and we can enjoy them gazing mournfully at the ripening grapes from OUTSIDE the vineyard.  Go to town, Robins, and rob someone else's vineyard!
| | |
| --- | --- |
| Posted on May 20, 2011 at 7:26 PM | |
This looks to be a great year!  We've pruned 80% of the vineyard, sometimes in steady rain (wettest spring in years!) and every single variety is budding out nicely on the canes!  If we have a nice warm season and no sudden early fall frosts, we should harvest  a significant crop from our premier varieties:  Frontenac and Marquette for the reds, and Frontenac Gris and La Crescent for the whites.  In addition, we have a good crop of Swenson Red coming on, which is said to make a very nice white wine.  We also have our Riesling and Chardonnay budding out well.
And it's not just the grapes.  Sand cherries, chokecherries, elderberries, plums, apples, pears— everything seems to have enjoyed our very steady, gradual, cool spring and is eager to push fruit this year (can plants be eager?)
Josh and I hope to finish up the pruning later next week, but first:
2011 Rhubarb, first batch!  We've already gathered over 400 pounds, with probably another 150 pounds coming in, early this next week.  Our goal of surpassing last year's 50 gallons by producing at least 300 gallons this year, is looking very promising!  We should be able to do two more batches this size this summer.  And since rhubarb wine was clearly the favorite of our customers, we're glad to be able to put away a large number of cases.  We expect to have some of it bottled by the end of June.  Thank you, Rhubarb Gods!!
| | |
| --- | --- |
| Posted on April 27, 2011 at 4:35 PM | |
Josh and I have been planting like crazy!  This spring we've planted 200 Rosa rugosa roses (very large hips for our rose hip wine and blends), 50 yellow anne raspberries, split our half-dozen rhubarb into approx 40 plants, planted 60 more rhubarb, and will be putting in 6 apple and 4 pear trees, 150 more Univ. Saskatchewan cherries and 50 more haskaps, not to mention about 50 more grapevines.  Oh, and 100 more sand cherries and some more black currants.
The Other Big Project will be to complete the erection of two "High Tunnels", which are unheated greenhouses with one skin instead of two.  They give you approx. one more month on both ends of summer.  Fall bearing raspberries in high tunnels produce 2-3 times as many berries, so we'll fill one with raspberries and the other probably with seasonal garden crops (tomatoes and peppers in summer, greens in spring and fall.)
And still have time to make wine....!
| | |
| --- | --- |
| Posted on March 10, 2011 at 11:15 AM | |
Every year is a gamble!  Twice the last month I've sample pruned canes from each of our grape varieties, and everything's green!  For two years we've not had much of a crop, but this year things look really good.  There's a good ground cover of snow and spring is warming up gradually.  Hopefully no long chinook warming periods.  Hopefully no sudden deep freezes.
We prune our grapes later each year, in order to allow as many buds to survive late frosts as possible. With a small vineyard, we can wait until well into April or even May and still get done in time. Cabin fever is in full swing!
| | |
| --- | --- |
| Posted on October 2, 2010 at 10:31 PM | |
Josh and I spent a lovely day today harvesting the last of the grapes:  about a hundred pounds each of Riesling and chardonnay, and a wee bit of Frontenac and Marquette and a few barely there.  The Glenora and Someset seedless have produced about 3 gallons of raisins which we will enjoy all winter.
Since we were really going  at it in the winery with grapes, we also shredded 112 pounds of golden spice pears to mix up a batch of pear wine.
So far we've now reached almost 500 gallons of wine, and with an almost total grape crop failure, we feel really fortunate to have done this well.
At last Sunday's garden club tour and tasting, we found our Sand Cherry Kiss  and rhubarb wines very popular (both sweet), with the Sand Cherry Dry well received by those who like dry wine.  I've also started the raspberry wine (approx 24 gallons) a few days ago and it has reached a simply lovely deep pink color.

Autumn is so exciting!  And Delicious!  Tomorrow we will start harvesting the named cultivars of elderberry, which are twice the size of the wild ones and sweeter.  Yesterday we gathered a bunch more rhubarb to add to our stash for this year's crop.  The only thing left to do in the vineyard is the remaining raspberry harvest which we hope will last another two or three weeks before hard frost.
It has been a good summer and a good harvest, despite our grape failure.  Now it's time to wait for the wine to age a bit, then full steam ahead with bottling and labeling, and finally, selling.
| | |
| --- | --- |
| Posted on September 14, 2010 at 11:02 AM | |
People will THANK you for taking away their apples!  Although apples are beautiful in blossom, and inspiring in fruit, the quantities for today's family, whose pie-making is rare and canning almost rarer, are just overwhelming.  So the average household makes a few pies, gives some apples away, and the rest.....well, they drop and rot.  And need to be raked up, and then raked up again, and then raked up again.

So along comes this winemaker (or jelly-maker) and offers to pick them for you and also offers to clean up the mess.  We thought we'd have a hard time finding as many apples as we'd like.  It turns out we've been offered more than we can use!  The big red crabs make wonderful wine, cider and extraordinary jelly (almost red, itself!)
And all it takes is a polite knock on the door and the courage to ask, and perhaps...a gift of that extraordinary jelly!
| | |
| --- | --- |
| Posted on August 19, 2010 at 10:57 PM | |
Our first year we netted, we figure we lost 1/2 the crop to birds anyway.  The robins worked from the bottom, the brown thrashers from the top, and if there was even a teensy hole in the netting, the American finches found their way in.  We had nets wrapped directly over each row and tied underneath.  It was comical to see the thrashers jumping up and down on the net and leaves, to press things down enough so that they could peck the grapes right through the netting!
Now we use an overhead net system that is a good 3 feet above the vineyard, like one giant ceiling, with the birds totally excluded unless we miss closing the seams at the corners where the side curtains meet (and the torn places that have developed....)  It is so peaceful to walk beneath the netted ceiling and enjoy a totally bird-free zone.
The last two years, the finches have shown up by the dozens (or maybe 100s)  about the time of veraison— the coloring of the grapes...., and after about two days of NOT getting inside, they simply leave for the rest of the season and never come back!  Now that's a bird I can love!
I have seen robins eat fresh earthworms from Marilyn's hand in the spring when she's pulling weeds, and I LOVE them!  I have seen robins eating our grapes, our sand cherries, our raspberries in August and I HATE them!  By putting up the netting, I can now at least tolerate them.  You can see our netting arrangement on the vineyard photo album.
Bob
| | |
| --- | --- |
| Posted on August 17, 2010 at 9:50 PM | |
I knew we should be seeing them mid-August. For three years now, we've been hosts to eastern cicada killers, the largest wasp you're ever likely to see (think 2.5 inches long!). They nest in the ground, and sting and bring back cicadas for their young. Two cicadas are left for female eggs, one for males. When the eggs hatch, the wasp larva feed on the cicadas all winter and remain underground until the following summer. When we heard the cicadas the past two weeks, I kept looking for the big wasps and finally saw one today. They probably could sting, but aren't really interested in us. They're busy getting those cicadas back to their nests.
Two colleges out east have been studying these insects, and I've sent them some two years in a row. In all of Montana, they've only had three sightings reported: two near Bighorn, and our vineyard. Call me or email me if you find them too. Here's what they look like— they're gorgeous: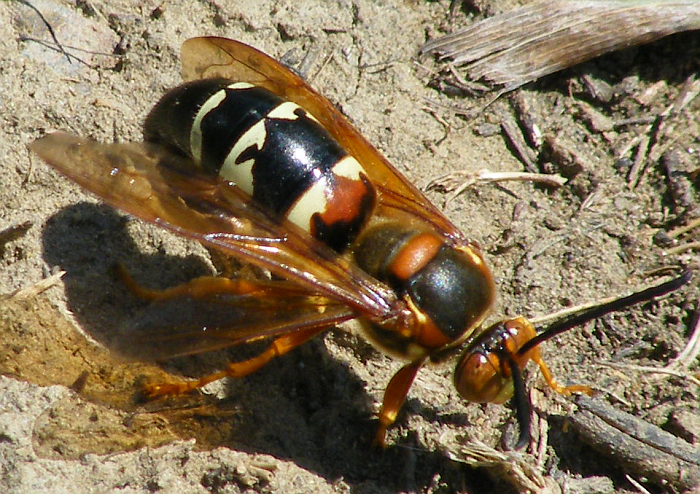 0

/