Shopping Cart
Your Cart is Empty
There was an error with PayPal
Click here to try again
Thank you for your business!
You should be receiving an order confirmation from Paypal shortly.
Exit Shopping Cart
Quality Made Wines with fruit exclusively from the Northern Plains!
| | |
| --- | --- |
| Posted on June 11, 2014 at 10:40 PM | |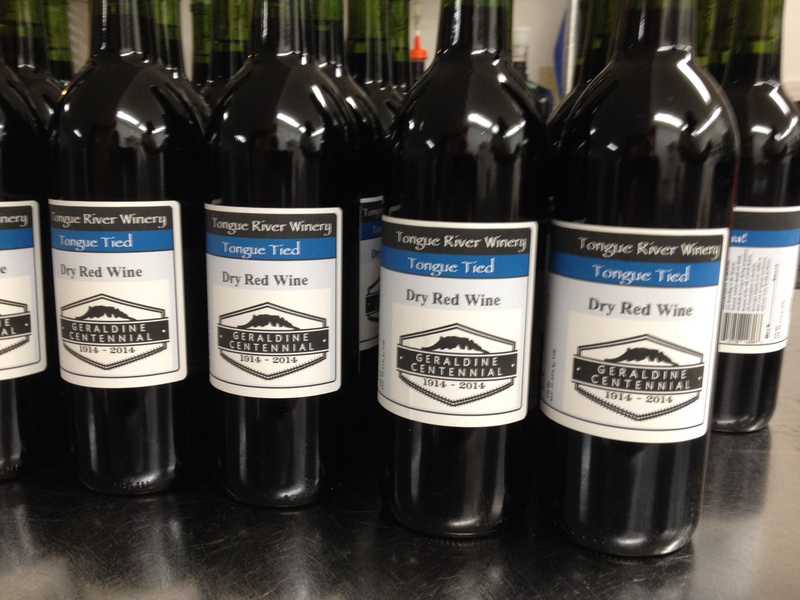 It's not every day we get to deliver a whole van full of wine to a single customer.  But tomorrow I'll be driving 400 bottles of Tongue River wine to Geraldine, Montana, which is celebrating their Centennial on July 4th.  I'm delivering Tongue Tied (our dry, barrel-aged red), Frontenac Gris (dry white, somewhat like chardonnay) and our sweet wines, Cherry Pie and Rhubarb.  It's almost a 600 mile round-trip, but it's worth it.
If you or one of your favorite organizations or businesses wishes some specially labeled wine, we can do that for you with enough advance warning (need to be approved by the Feds!)  We've done this for weddings, banks, finance companies and others.  Shoot Bob an email if you are interested.
| | |
| --- | --- |
| Posted on February 21, 2014 at 10:55 PM | |
It's always lovely for a small business when "they call us", not the other way around.  So we were delighted when a liquor store called to see if they could stock our wines, and the same week we were contacted by a distributor in southwest Montana because people out there in the mountains have been asking for Tongue River wine!
Monday I drive to Bozeman with 28 cases of wine to deliver to a distributor, which will be doled out to only about 4-6 of the 100-plus retail stores they supply.  Why so few?  Well, we're a small winery, and we want to make sure our loyal eastern Montana customers always have the first and best choice.  We're glad to expand our market base, but "the other Montana", the one without Mountains, the part sometimes disdainfully referred to as "Western Dakota"— namely this far eastern third of the state— has been the Montana that supported the start of our business, gave us our first markets and has encouraged us along so faithfully.
It will probably always remain that our most unusual or small-lot wines will only be sold at the Winery or a few local specialty shops.  OR, to customers who have us ship them from the winery:  wines like Haskap and White Raspberry for example.  But it's time for our bigger batches to stretch their wings and fly beyond Billings to demonstrate to the mountain people just how fine the flatlander wines can be!
Sip and Shop is coming up soon in early March!  Take note that we'll be closed for about a month in Mid-March to mid-April, so stock up before or after we re-open.
| | |
| --- | --- |
| Posted on August 14, 2012 at 10:05 PM | |
Cherry Pie!  Chocolate Covered Cherry!  We're playing with a couple of new wines made with sour pie cherries.  The wine will be a medium high alcohol (15% or so) and quite sweet— definitely a dessert wine, and we might make it both with and without chocolate or cocoa flavoring.  I mean...is there anything that goes together better than chocolate and cherries??!!
The wine has fermented and we are awaiting its clarification.  It tastes lovely but needs a bit more sweetening.  It will definitely be ready before October, and will probably be offered in splits (half-sized bottles.)  Ask for it at the winery!
This year will also be the first year we ferment Frontenac Blanc grapes.  We'll try a few styles, but we expect to make a crisp, flinty semi-sweet white wine with these grapes we planted 3 years ago.  We'll let you know when it's ready.
| | |
| --- | --- |
| Posted on April 6, 2011 at 1:02 PM | |
It all began in 1958, when I was 10 years old, spying on lovers in parked cars nestled between trees and sand dunes fronting the beach of Bass Strait, at Ulverstone, Tasmania, Australia.  My mother, the native Aussie, had convinced Dad to move to Tasmania for a couple of years so she could reconnect with family, friends, haunts and memories in her homeland.
I was a young kid, and the beach was only 4 blocks from the house.  So sometimes on Friday nights, I'd drag my brother, Ron, along and go down to the Sand Dunes for an adrenaline rush.  We'd sneak up on a couple making out in a car, reach down and grab a handful of sand and fling it in the open window and run like bloody hell.  Of course my parents never knew!
Sometimes we got chased, but we knew the vine-covered trees like the backs of our hands and never got caught.  But just as often, a beer bottle would come flying out the window.  Now these were the large bottles, akin to our wine bottles, and somehow we discovered that a rather frightening character known to us only as Blind Pete made his living gathering and selling glass bottles, and he lived only about 5 blocks from the beach, just two blocks past the candy store near our house.  And we heard that he paid.  In cash.
So on Saturday mornings, my brother and I began to go down to the beach with gunny sacks, gathering beer, wine and champagne bottles from the clearings and dune areas, and when we'd gathered all we could find, or all we could haul, we'd walk over to Blind Pete's place and knock anxiously on his door, and watch spellbound as he came shuffling  outside with his cane moving back and forth, and then would examine our bottle booty entirely by feel, determining whether each bottle was worth anywhere between a hapenny or thripence, which was reserved for the heavier champagne bottles and then put them in the correct piles.
Ron and I would gather up the change he paid us and slip over to the candy store and stock up on licorice and Velvet Crumble bars, little knowing that someday, 50 years later, I'd again be gathering up wine bottles, but this time donating to Eastern Montana Industries, our adult disabled local recycling business, for the thousands of bottles we receive from them each year.
Life is a strange circle sometimes, eh?
Bob
| | |
| --- | --- |
| Posted on November 30, 2010 at 12:07 AM | |
It hit me while walking to the winery yesterday, when I nibbled a neighbor's frozen apple.   Immediately I knew I was going to pick them.  Two months ago they were bitter and too acidic.  Now they are incredibly sweet with just the right amount of sourness.  The tree is loaded, and the deer have been enjoying the 1" apples around the bottom.  But now we'll get out the ladders, and pick them for apple ice wine.
LOCAL FOLKS:  help us out here!  If you have large (at least 1 inch)  frozen crabs or apples still hanging on the tree, or apples that froze in your garage, give us a call and we'll add them to our experiment!   853-1028 or [email protected]
 The internet again proves to be the incredible information tool, and soon I know just how I'm going to do this— pick them frozen, run them through our apple shredder to reduce them to very coarse apple meal, then press them while they are still mostly frozen.  The juice, which will test out at approx 14% sugar, will be frozen in 5 gallon buckets.  When they are solid, we'll bring them inside, punch a half dozen holes in the bottom with 7 penny nails, and set them on a couple of wooden rails over another bucket, until just about half of the nectar has drained, leaving mostly flavorless ice behind, and a highly concentrated apple syrup of approx 30% sugar.
Next, the syrup will be fermented as coldly as we can, stopping when we have somewhere around 12% alcohol and 4-5% sugar.  There won't be much, it'll be expensive like all ice wines, but oh, it will be wonderful!
The rose hip recipe has been approved and our trial batch should finish fermenting in another week.  The flavor is....strawberry, banana, passion fruit.  The 20 gallons of European black currant wine is also nearing the end of ferment and tasting oh, so good!  Our elderberry wine is now available, both dry and semi-sweet.  And finally our riesling— Montana's only riesling made from grapes grown in Montana— is also for sale.  Just 30 bottles, and already 25% gone in just a couple of days.  Alas, the rhubarb sold out, but we've got two more batches in the works.  But the arancione is gone until next fall, when we'll have a lot more of it....:(
Totally Montanan is our motto— grown here, produced here, bottled here.  If it didn't grow in Montana, we won't bottle it, because we're proud of what we have to offer.  Our wine is different than what you get in California.  Different.  Not inferior, not second class, not ho-hum.  Just ask our satisfied rhubarb wine customers!
Happy responsible wine drinking to you all!
Bob
/